Thousands of rocket attacks against Israel by Hamas. Criticism of Israel from all sides. A terrifying wave of anti-Semitic demonstrations and hate crimes all around the world.
It's the perfect time to infuse some much-needed Israeli pride into Israeli society. And Israel's enlisted two of its biggest stars to make it happen.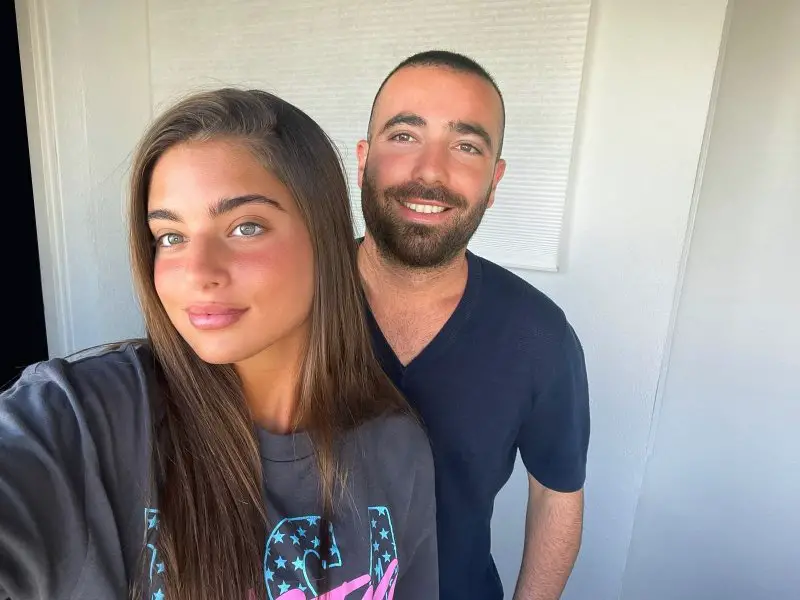 Any collaboration between Omer Adam and Noa Kirel is certainly newsworthy. But when they join forces to promote the Blue and White, we're definitely gong to cheer on their efforts.
Or maybe not. Their new take on "Hatikvah", Israel's national anthem, is causing some to cheer…but others to cringe.
The new song blends Noa and Omer, English and Hebrew, pop and hip/hop to create a fresh new sound for the beloved anthem. The artists added some new lyrics to help solidify their message: A sample: "I don't care what they say / a Star of David will remain on me / We're all brothers here and I'm not embarrassed, because / I know who I am and you never understand me."
The famous duo enlisted some pretty heavy hitters to help create the song. Scott Storch, whose worked with Beyonce and Justin Timberlake, produced the song from his home studio in Miami. "LunchMoney Lewis", an American rapper, singer, and writer whose worked with Nicki Minaj and Fifth Harmony, was involved as well.
"There are some things you just don't touch"
Reaction so far has been mixed. Commenters on Omer Adam's Facebook page had lots of opinions. "On one hand it's an embarrassment," one wrote," and on the other hand it's probably the only way to make the generation you represent know these eight lines."
Others were far less forgiving. "Get rid of your ego and take down this disgrace!" wrote another. "Our anthem is not a commercial song!. There are some things you just don't touch."
A smaller minority, however, appreciated their efforts. "I don't understand the problem," wrote another fan. "Stop looking for problems with everything. I love Israel and I love the anthem and I don't see anything wrong with it!"
"Love it! Exactly what I needed to hear this morning!" commented one member of Israeli Music Community on Facebook.
"We must not lose hope"
Whether or not you like the final result, you've got to admit that their hearts are in the right place. The press release for the song included a heartfelt message from Noa and Omer:
Wow, what a year we went through. Corona disrupted the life of the whole world and stopped all the fun for us, disrupted all our plans and reminded us that really nothing is set in stone.

Then when we came out of it in a big way and started flying back, the terrible disaster came upon us in Meron, in celebration of Lag Ba'Omer. A huge shock. Unimaginable pain.

Then Operation Guardian of the Walls, missiles, sleepless nights, shelters, fears. We all feel what the people of the South have been going through for so many years. Our soldiers are on the front, the Air Force works around the clock and the Iron Dome reminds us that we are lucky and that we are smart and strong.

Then riots across the country, hatred, violence, fear in the streets. And the disaster on Erev Shabbat in the synagogue in Jerusalem.

And the world, it seems, is all against us. Anti-Semitism around the world, demonstrations, slandered and attacked Jews. It's hard to win a war on social media.

What more? God save us.

We met this week at the studio and thought this is the moment that we need to raise people up! We must all be reminded right now, when the operation is over, that we must not lose hope. So we took our mighty anthem, the one that fills our heart and soul with pride every time we sing it, added to it additional words of hope in Hebrew and English and also harnessed two huge international artists who collaborated with us.

So we remind you that there is nothing like our people and our soldiers and that we must not lose hope!
With God's help, good days will come upon us and that we will return to being one nation with one heart.

With love,
Omer Adam and Noa Kirel
Proud or Pathetic?
So now it's your turn. What do you think of the song? Is it an effective way to spread Israeli pride to the next generation? Or is an embarrassment to the Blue and White? Let us know in the comments!