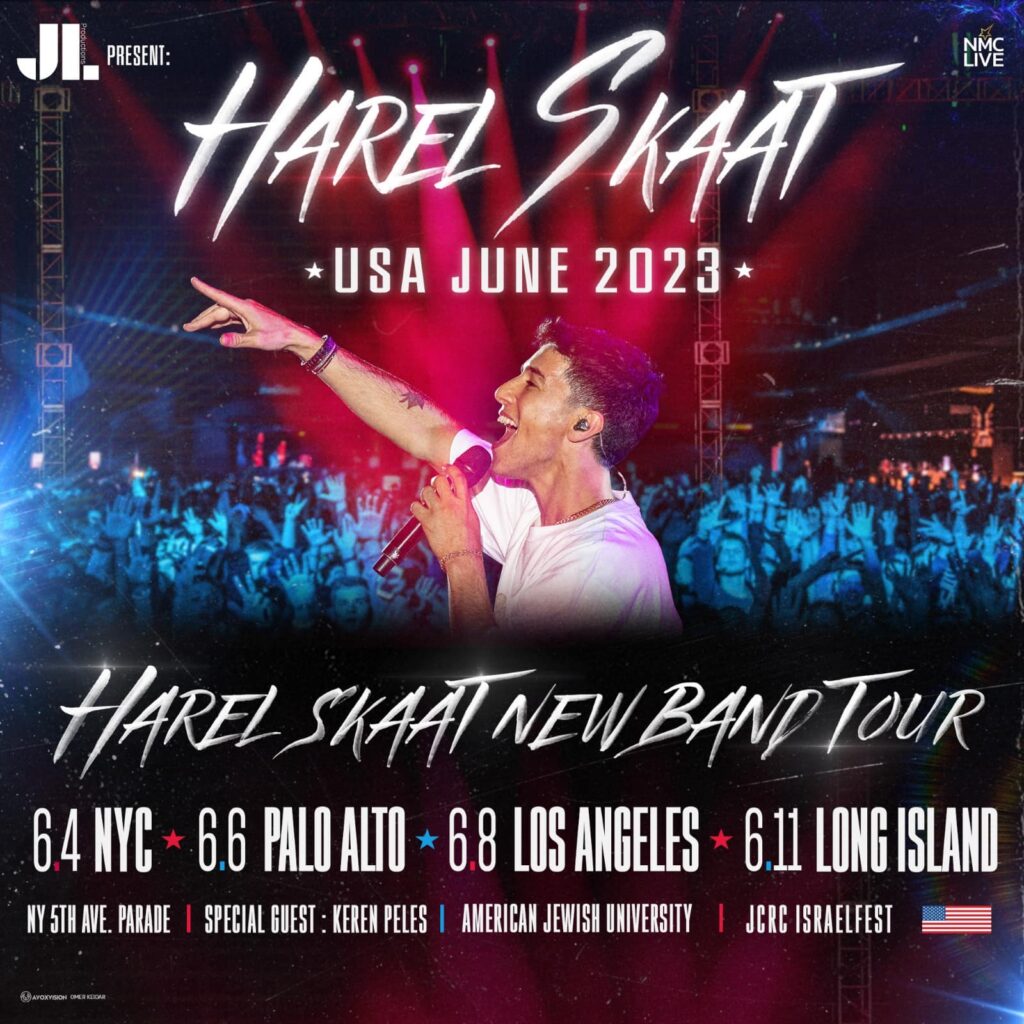 After a quick stop in New Jersey as part of the celebration of Israel's 75th, Harel Skaat is coming back to the USA this June!
In a career spanning more nearly 20 years, Harel is one of Israel's biggest musical stars, with one of the best voices in the business. In 2004, Harel gained national recognition after participating in the Israeli version of the popular singing competition show "Kochav Nolad" (A Star is Born), coming in second place overall. Although he didn't win, he impressed the judges and the audience with his exceptional vocal skills and unique style.
He represented Israel in the Eurovision Song Contest in 2010 with the powerful "Milim" (Words). Despite a 14th place finish, Harel's talent was on full display, winning him many new fans.
If you're a fan of Harel Skaat's music and live on either coast of the USA, you're in luck! Harel is scheduled to perform four shows in the United States this June. This is a rare opportunity to see one of Israel's most celebrated artists perform live, so don't miss out on your chance to experience his powerful voice and emotional performances firsthand.
Harel Skaat in New York City
1. Sunday, June 4, 2023
11:00 am – 3:30 pm
Celebrate Israel Parade
Fifth Avenue, New York City
FREE!
2. BEHIND THE SONGS
In an intimate and candid conversation, singer-songwriter Harel Skat, one of Israel's biggest stars, will talk about his career, his family, and the stories behind his biggest hits. Although this is not a concert, Harel will sing some songs along the way. This event is in Hebrew.
Saturday, June 10, 2023
8:30 pm
Marlene Meyerson JCC Manhattan
334 Amsterdam Ave at 76th Street, New York, NY

Harel Skaat in Palo Alto
Special Guest: Keren Peles
Tuesday, June 6, 2023
8:30 pm
Oshman Family JCC
3921 Fabian Way, Palo Alto, CA

Harel Skaat in Los Angeles
Thursday, June 8, 2023
8:30 pm
American Jewish University
15600 Mulholland Drive Los Angeles, CA

Harel Skaat in Long Island
Sunday, June 11, 2023
Eisenhower Park's Harry Chapin Lakeside Theater
Parking Fields 6/6A
4-6pm: Israelfest
6-8pm: Concert

What's it like to see Harel Skaat in concert? We at MyIsraeliMusic.com just had that opportunity in New Jersey. Read our concert review here, and watch footage from the concert below!