Israel's 75th is finally here, and we couldn't be prouder of our homeland. If you're in Israel, you can certainly look forward to a Yom Ha'atzmaut celebration unlike any other. But if you're outside of Israel, no doubt you're looking for way to connect to the festivities.
As usual, Israeli music comes to the rescue!
This year, Israel's artists have been hard at work, helping create the soundtrack for Israel's 75th, just the ticket to enjoy an Independence Day celebration wherever you are. No, you won't find this year's equivalent of "Shevet Achim Va'achayot". But you will find a list of songs to inspire, uplift, and entertain you – and get you swept up in the worldwide celebration of this incredible milestone.
Join us as we present ten songs perfect for this year's Yom Ha'atzmaut. Listen, watch, and fill your day with national pride! (And by the way, we played most of these songs on our recent podcast. Check them out in Israel Hour Radio Episode #1152.)
1. Agam Buchbut, Ella Lee, Or Amrami Brockman & Lahakat HaTzva'it – Anachnu HaDor Haba (We Are the Next Generation)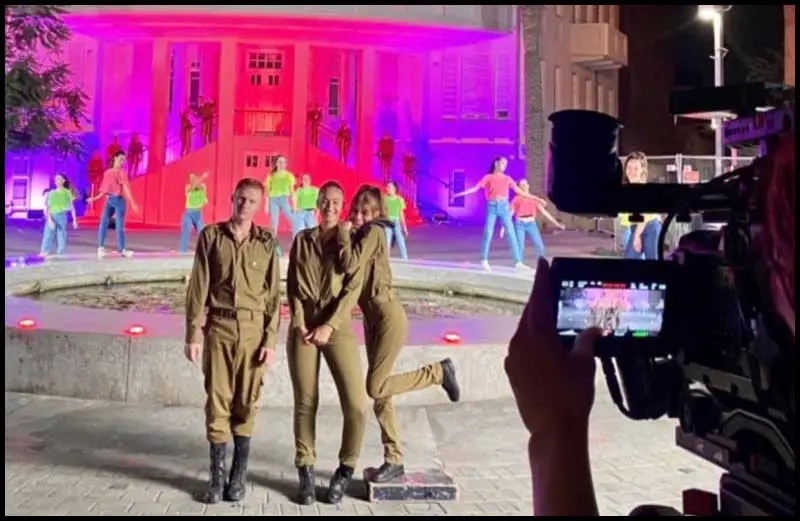 Ladies and gentlemen, we present the theme song for Israel's 75th birthday celebration. The message? Every generation has a mission – and this generation takes its mission very seriously.
The song is sung by current IDF members Agam Buchbut, Ella Lee, and Or Amrami Brockman.
The baton is now passed to the next generation – the generation born after the wars, after the revival of the State, after the Holocaust. And what hasn't been said about this generation? This is the TikTok and "story" generation, the "instant" generation, Generation Z.
But one more thing: this is a more sophisticated, smarter, more sensitive and exciting generation, a generation that has a mission no less important than those that preceded it: to keep the house in order.
The writer of the lyrics of the song, Moshe Klughaft, says: "Fifty years have passed since 'Choref 73' and we have arrived at 'Aviv 23' of the next generation"
The verses of the song range from the time of the Bible, through the Holocaust, the miracle of the revival of the State – to the present day.
2. Shaanan Streett & Friends – Ma Nishma, Yisrael? (What's Up, Israel?)
A few months ago, the Jewish Agency asked Jews around the world to submit lyrics for a special song for Israel's 75th. That song is now a reality, courtesy of Shaanan Streett (of Hadag Nahash) along with Jewish artists from around the world singing in several languages. Their message? We may speak different languages, but we are one people. And when we are unified, we speak in one voice, no matter where on earth we may live. Can you think of a better message from Israel in honor of this special milestone?
3. Subliminal & the Shadow – Am HaNetzach (The Eternal Nation)
4. Eden Ben Zaken & Rami Kleinstein – Mila Tova (A Good Word)
In light of this week's celebration, we'd love to overlook the country's problems over the past few months. But let's face it, Israel is as fragmented as ever, and unity is little more than a dream these days. Well, Eden Ben Zaken and Rami Kleinstein want to change that with a positive message for this time of year. It's time for kindness to return to the streets of Israel, they argue, and for all of us to learn the value of a kind word. There is beauty and love throughout the land of Israel. We just need to open our eyes and soak it in. The song concludes with a recognition of the sacrifices that were made to ensure we have a strong national homeland – a fusion of the two holidays we're observing this week. Read a translation of the song here.
5. Ofra Haza & Zohar Argov – Kan L'olam (Here Forever)
Both Ofra Haza and Zohar Argov passed away many years ago, right? So how are they singing a new duet together? Through the magic of artificial intelligence, of course. By analyzing hours of recordings of each artist, AI was able to reproduce their voices in a brand new song. Kan Broadcasting writes: "'Kan Leolam' ('Here Forever') is the first musical production in Hebrew whose singers' voices have been reproduced using AI technology. The song was produced as part of the 75th Independence Day Celebrations of the State of Israel as an initiative of KAN, the Israeli Broadcasting Corporation, by the "Session 42″ Production and Tec company. The artificial intelligence technology was used in the production of the song together with the Israeli company Aiode, by sampling the recordings of the two legendary artists from the Israeli Broadcasting Corporation's archives and recordings owned by the Reuvani brothers. The production was done with the full approval of the families of Zohar Argov and Ofra Haza, as a tribute to their voice and musical heritage."
Creepy? Heck, yes. But pretty amazing nonetheless.
6. Nicole Raviv feat. Yair Levi – Narrow Bridge
A recent olah from Canada, Nicole Raviv presents a gorgeous rendition of a song (attributed to Rabbi Nachman of Bratzlav) that many of us have been signing our entire lives. While every Jew has their own story, we all come together on a Narrow Bridge. "International singer, songwriter and actress Nicole Raviv teams up with the World Jewish Congress and the Jewish National Fund-USA to launch the 'Narrow Bridge' project, in celebration of the 75th anniversary of Israel," the video's description writes. "Through her rendition of 'The Whole Entire World is a Very Narrow Bridge', sung in Hebrew, Arabic, and English, she and Israeli singer Yair Levi call for unity amongst Jewish communities all over the world. We hope to bring people together and inspire a sense of shared heritage and identity."
7. Revivo Project – Shir Moledet (Homeland Song)
What's a celebration without fun, upbeat, joyous music from Revivo? In 1988, the group "Puncher" released "Shir Moledet" – a song longing for the old-time songs of Eretz Yisrael, songs like "Shiri Li Kineret", for example. "The songs of another time," the song laments, "had to them some flavor of the old and good land of Israel." Released in conjunction with Radio HaTachana 101.5, the music video features guest appearances from the members of "Puncher", in addition to Aviva Avidan, Yoav Yitzchak, Haim Moshe, Avihu Medina, and other old-time Israeli singers. Guaranteed to put a smile on your face, this song is sure to liven up your Yom Ha'atzmaut party.
8. Ma Kashur – Ani Nishar (I'm Staying)
Though this song is a little less-new than most of the others on this list (it was released in September 2022), it's still a great way to celebrate Israel this Yom Ha'atzmaut. The Ma Kashur trio does a great job singing the praises of Israel, warts and all. With lyrics by Noam Horev ("Matanot Ktanot") and music by Elai Botner, "Ani Nishar" offers a cynical yet loveable look into life in Israel. Sure, Israel can be a tough country to love sometimes. With all its problems, though, we'd never want to live anywhere else.
9. Stephane Legar – Mama Israela
Stephane Legar was born in Bat Yam, Israel, to Christian parents from Togo. But he only attained Israeli citizenship in 2021, after serving in the IDF. It's safe to say that the country has been good to Stephane, making him a household name in the Jewish State. Now, Stephane Legar shares his own love letter to the country that embraced him.
"Not everything with you is easy,
I confess
But you're the reason I'm here
You didn't give me what I wanted
And I got what I didn't expect
You're the first one to give me a stage,
Now I'm all yours forever."
10. Ofek Levi – Herzl Amar (Herzl Said)
A song we stumbled upon while researching this article, by an artist we've never heard of. But by invoking the name of Theodore Herzl, Ofek Levi certainly caught our attention. The colorful, culinary scenes of the shuk certainly don't hurt, either. Levi's message is similar to those in other songs here: Israel is far from perfect, and sometimes it can be frustrating beyond belief to live there. But it's ours, and we wouldn't have it any other way. "
"Among all the disputes, we want to live in you [Israel]
There is no other place where we can be ourselves
Yes, you are here for us, since the dawn of generations
In other words, Israel, you are home."
---
We hope these songs help enhance your Yom Ha'atzmaut celebration, and bring you even closer to the beauty (and the balagan!) of the State of Israel. Heard any other great songs for Israel's 75th? Be sure to let us know in the comments. Happy birthday, Israel!